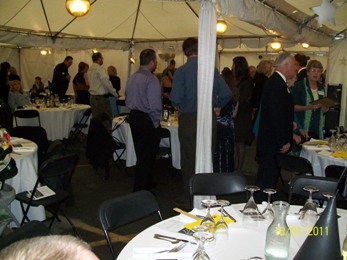 2012 Hospital Gala Another Success!
The 2012 Gala took place Saturday, September 15th.
The evening began with cocktails provided by Sportsman Roost and appetizers catered by FreckleFace Gourmet and served by our lovely and handsome volunteer servers from Republic High School National Honor Society and the Republic High School Cheerleading staff. Tours of our remodeled emergency rooms were provided by Thomas and bidding at the silent auction was spirited! Guests were transported in style from the parking lot to the Gala via chauffeur-driven golf carts. Dinner was delayed slightly due to the power outage, but hospital maintenance hooked up the generator so we had lights and could keep bidding and visiting until dinner was served. Dinner was again catered by FreckleFace Gourmet and was excellent. Live piano music was provided by Gael Bohannon.
The McConnell family traveled from near and far to attend the Gala and continue to raise money for the Graham S. McConnell "Doc" Memorial Scholarship Fund. The live auction was, to say the least, entertaining! Thomas concluded the evening by showcasing and raising money for a new Crash Cart, AccuVein, and AutoPulse.
The Foundation Treasurer reported that proceeds from the Gala were approximately $14,000, with money still coming in. Thank you Ferry County community! Many people worked very hard to make this event a reality and their efforts to raise money for our hospital is much appreciated.